ChoiceTel Proudly Welcomes Mike Vail to the Team!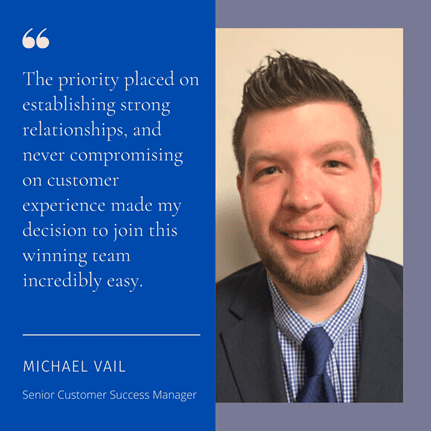 Michael Vail, joins the ChoiceTel team as a Senior Customer Success Manager after spending the prior five years working for Mitel, a global market leader in business communications. As a Customer Success Manager, Michael was focused on customer lifecycle management, serving as a trusted advisor tasked with pairing solutions to key business objectives, and acting as an escalation point within the Mitel ecosystem. During his tenure Michael was recognized as a member of the Mitel Business Excellence Circle for his outstanding performance and desire to provide a superior customer experience. Michael also brings with him over eleven years of experience serving in multiple roles at Verizon, where he began his telecommunications carrier.
"I look forward to assisting in the stellar work already being done every day by Diane Smith, and the ChoiceTel Team. One thing was clear from day one at ChoiceTel, this entire organization works collaboratively and across all functions to serve the needs of our clients. Everyone has a seat at the table when pairing solutions with our customers desired outcomes. The priority placed on establishing strong relationships, and never compromising on customer experience made my decision to join this winning team incredibly easy," said Mike when asked about his new role.
Diane Smith, President & CEO of ChoiceTel stated: "We are so excited to have Mike join our team! He is a perfect match for our culture, mission, and vision. He will undoubtedly be a major source of satisfaction for all of our customers. Mike's dedication and commitment towards everyone he works with is a rarity in today's technology world."
For help with your business needs or for more information, contact ChoiceTel at 800.815.3320 or email us at [email protected]
Choice Telecommunications, Inc
7640 Dixie Highway, Suite 150
Clarkston, MI 48346
Phone: 248-922-1150
Email: [email protected]
7000 Central Pkwy.
Atlanta, GA 30328
(800) 815-3320
COPYRIGHT © 2019 CHOICETEL | CHOICETEL